Here you can make your Dragon Character sheets for the an Chatbox RP.
Name:
Age:
Gender:
Appearance: (either post an picture or discribe what they looked like. If you going to post an picture then give credit to the artist who made it)
Elements: (No more than eight elements on an character and it must be of the following: Fire, Ice, Wind, Earth/Nature (I just call it Nature out of habit but its one of the same thing), Water, Electricity, Light, Darkness, and Convexity)
Backstory: (This is optional you do not have to put one if you don't want to)
Other: (If your character has an special power or have something that they usually wear or anything please put it down. Again this is optional as well.)
~~~~~~~~~~~~~~~~~~~~~~~~~~~~~~~~~~~~~~~~~~~~~~~~~~~~~~~~~~~~~~~~~~~
Here is my first Dragon Character sheet that I'm going to post up here
Name: Sky
Age: 14
Gender: Male
Appearance: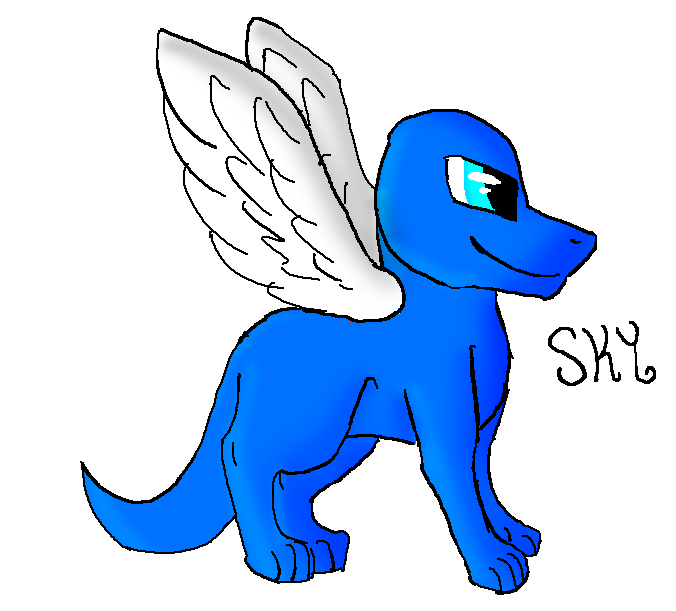 (the Image was made by MaggienToby on DA)
Elements: Fire, Ice, Wind, Earth, Water, Electricity, Light, and Darkness
Backstory: Sky the Primal Dragon is kind and caring person. But he has an short temper at times. He grew up surrounded by creatures known as Elementals. From them he learn new ways to control the elemental energy around him. When he was eight he venture away from his home to find his real parent who lost him when he was an hatchling. He was born to fly as well. Because of his wings are bird like he can fly higher and faster than most dragons.
Other: He hates being called Bird Boy